Hanuman's Leap
30 minutes – 8 singers (SSAATBBB) with drums – or percussion ensemble + me (+ track)
I wrote Hanuman's Leap for Roomful of Teeth, and also perform it myself with percussion ensembles. The story comes from the Ramayana, a 2500 year old epic poem from India. I read it all summer 2012, in the luminous prose translation by Ramesh Menon, and could hardly put it down. Its central hero, Rama, is both human and divine, a model of earthly virtue and an incarnation of Vishnu come to the world to battle evil. When his wife, Sita, is kidnapped by Ravana, prince of demons, he raises an army of vanaras -- magical and sagacious monkeys -- to find her. The greatest and most humble of these is Hanuman. His leap to the demon's island Lanka forms the frame of my story, into which I have interpolated a second tale of his prodigious jumping ability from later in the epic.
Epic poems are traditionally sung, but few traditions of live performance survived the 20th century. It's a challenging genre for the modern mind. Bards recite (or, in some cases, improvise) stories that can run for many nights -- Manas, the national epic of Kyrgyzstan, is roughly half a million lines long, and the Tibetan epic of Gesar can be twice that. The poetry is sung in short, endlessly-repeating musical phrases that articulate the meter rather than the action, which results in a surface that, to our ears, is undramatic and monotonous. I've listened to a lot of it, and I wish I could tell you that it isn't.
The drama, of course, is in the story, and I lament that I will never hear a traditional epic sung in a language I understand. English has none; we wrote ours down and forgot how to sing them long ago. I wish there was, so I wrote one.
Hanuman's Leap started just as a sketch, a proof of concept, one quick scene from a story I love to see if I could do something good with it. Two years later, I think it's almost done.
Selected Performances:
May 2013 - Roomful of Teeth at Princeton University
June 2013 - with Tigue at JACK theater, Brooklyn
November 2013 - with Mika Godbole and Yumi Tamashiro at Spectrum NYC - 2-night double bill with Matt Marks
January 2014 - midwest tour:

Athens and Cincinnati, OH with Aaron Michael Butler and nobrow.music.collective
Bloomington, IN with Square Peg Round Hole
Chicago, IL with Owen Davis, Peter Ferry and Ryan Packard
Ann Arbor and Detroit, MI with Dylan Greene and Willo Collective

April 2014 - Austin, TX (Cheer Up Charlie's)
June 2014 - guest artist at the Nief-Norf percussion festival in Greenville, SC
Live show from Ann Arbor: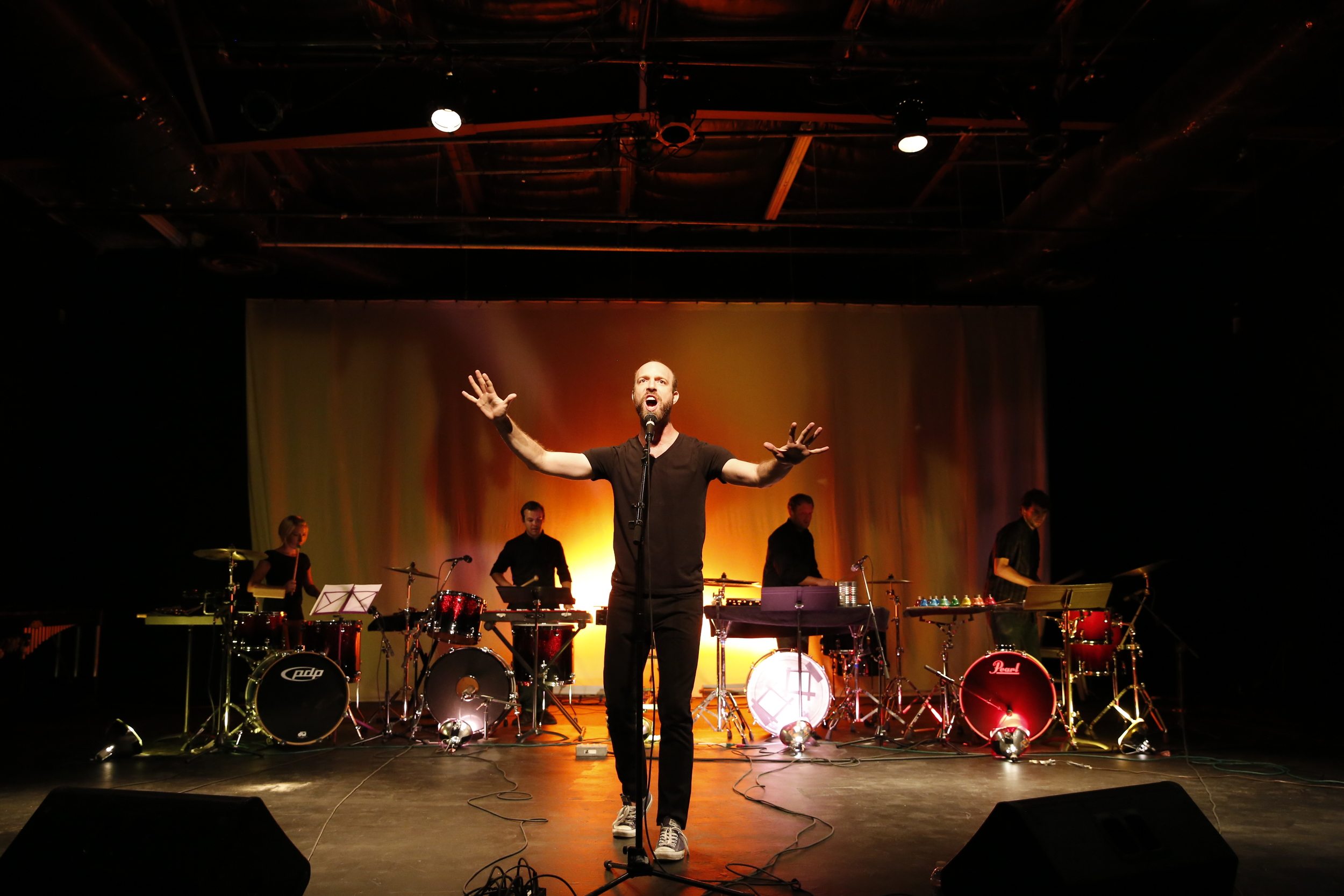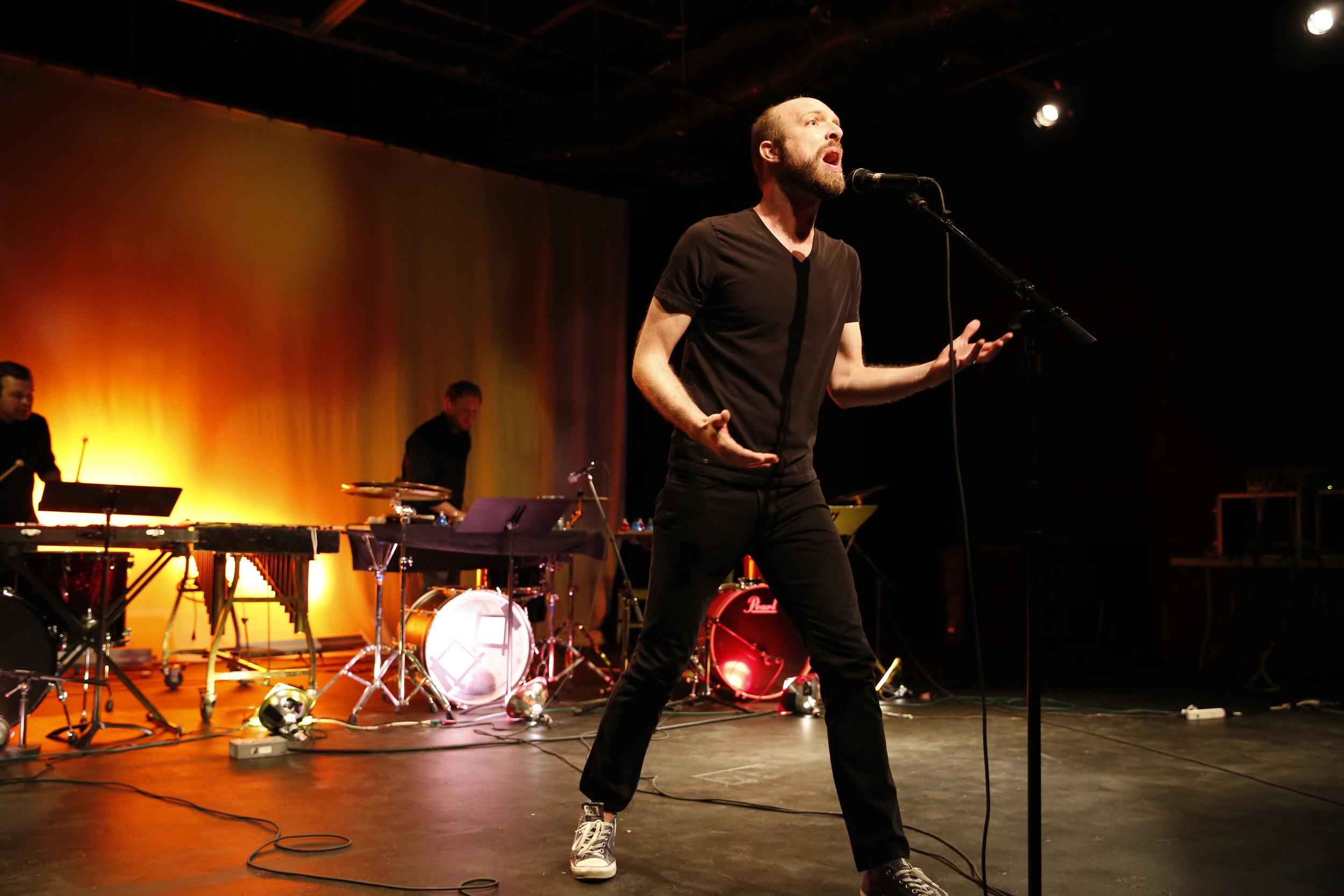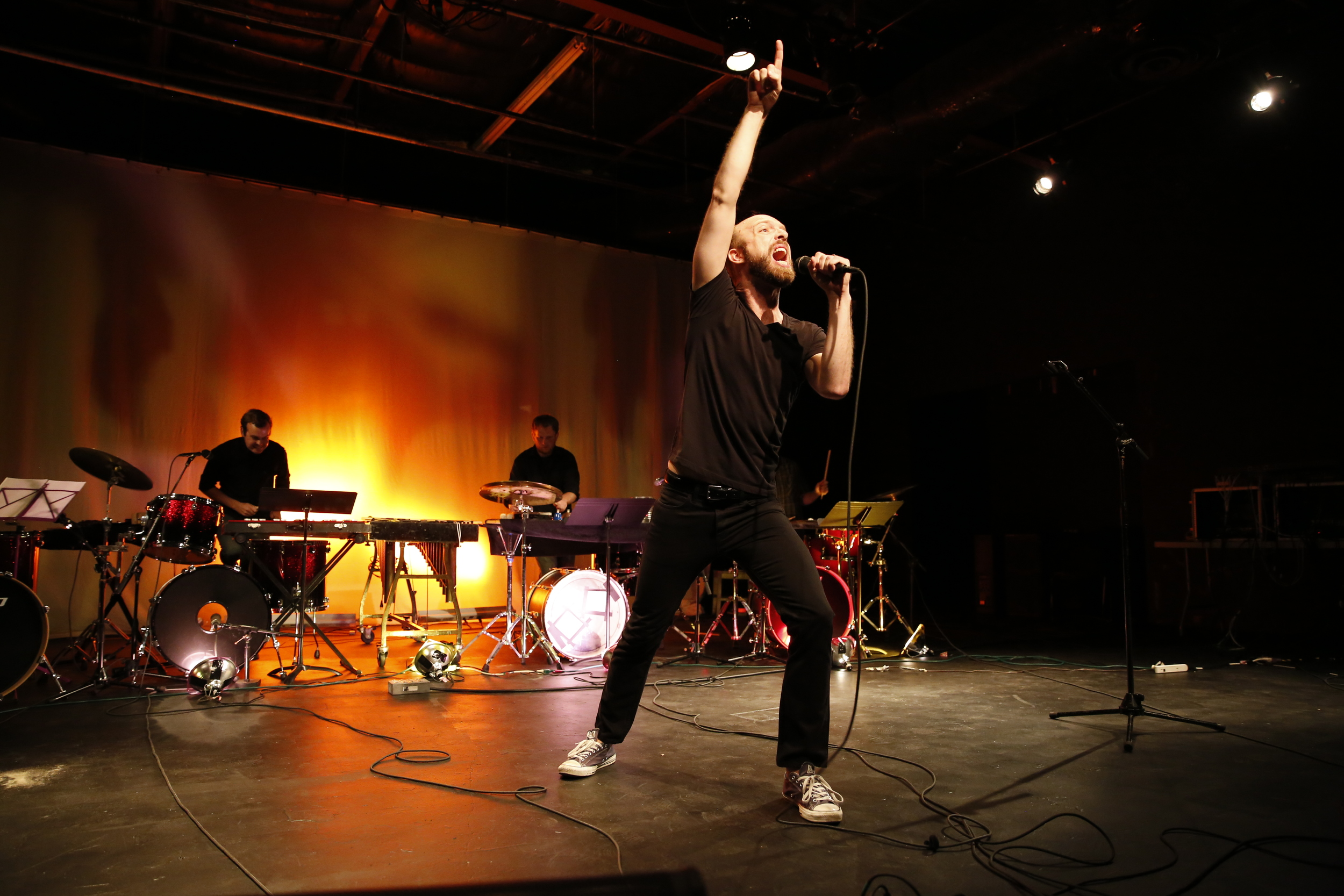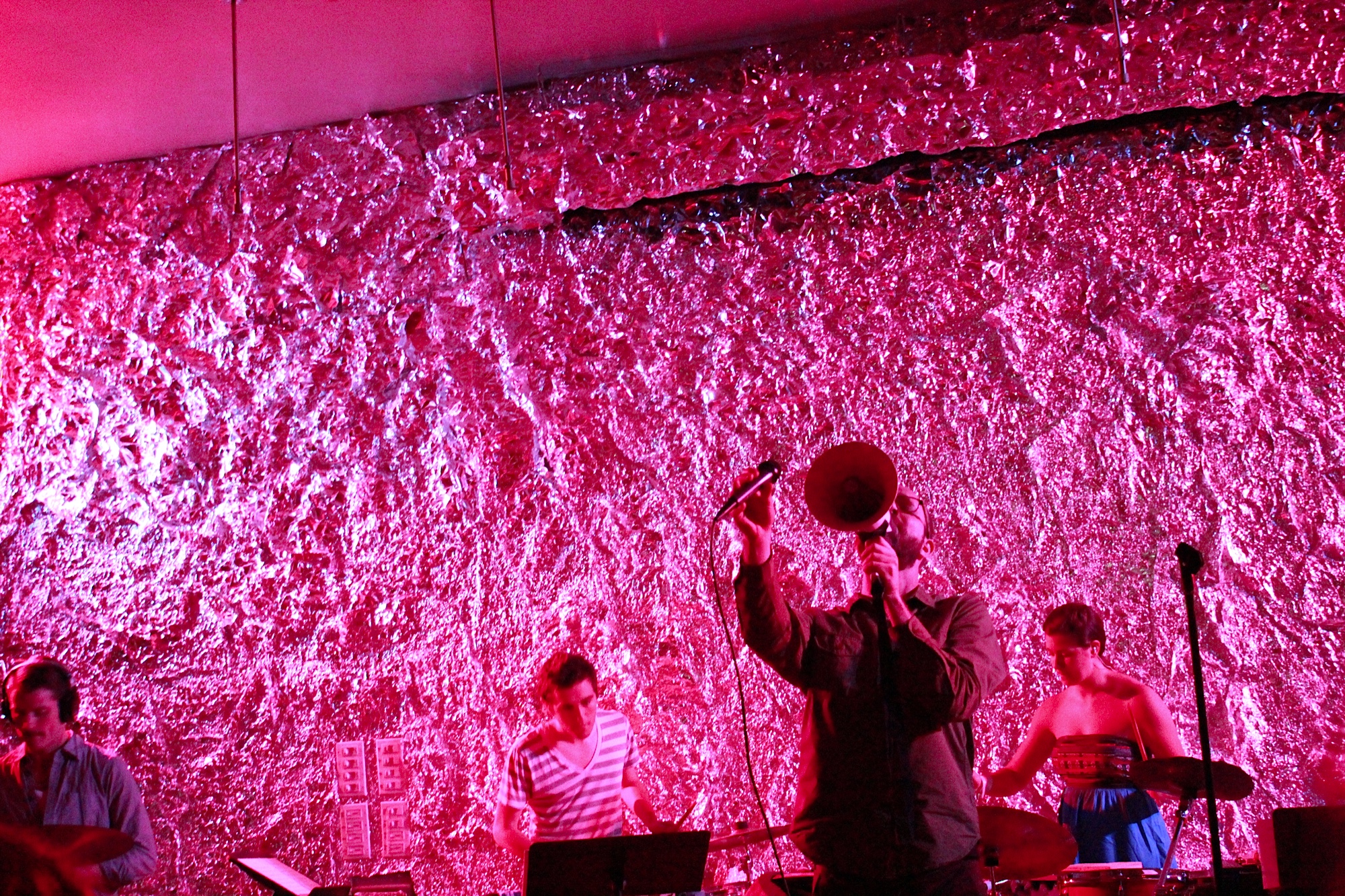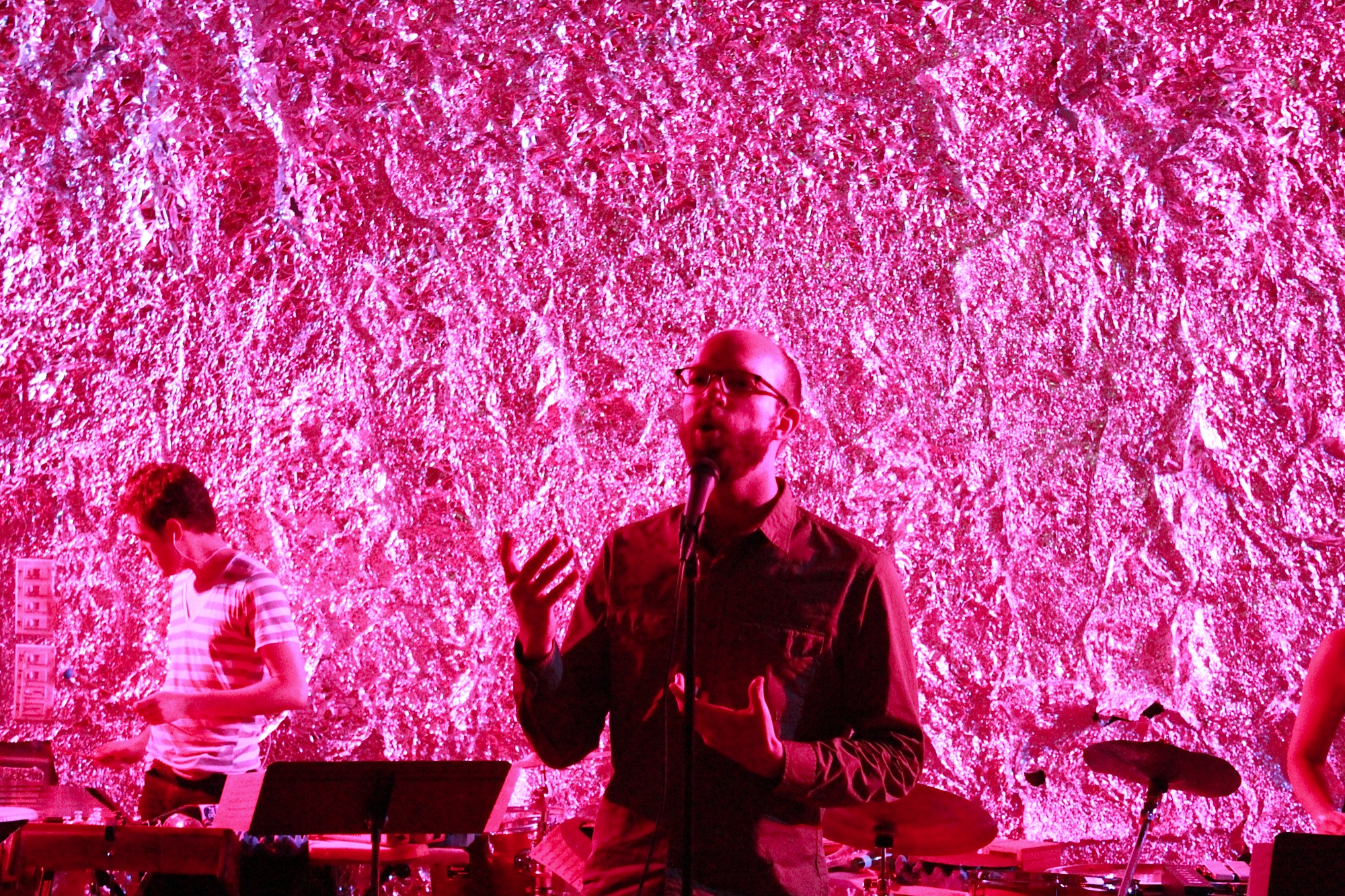 (Austin TX Salvage Vanguard Theater with Kraken Quartet; photos thanks to Sara Erensoy. Pink photos from JACK theater: thanks to Gabriel Furtado. Horizon Records: thanks to Warren LaFever )